happy baby knitting!



baby bell bottoms


I love cute little baby pants! After searching for the perfect pattern, I decided to sketch out the pants I really wanted to make and whip up a pattern of my own. The garter stitch border at the bottom accentuates the slight bell shaping and the elastic at the waist helps keep the pants up. The yarn is the wonderfully soft and affordable Shine Sport from Knitpicks.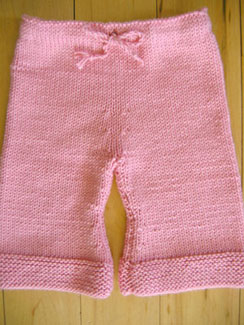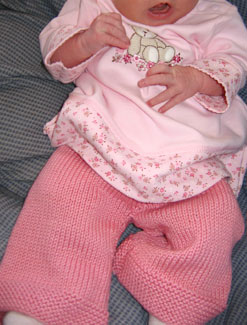 Size
newborn (6 mo, 12 mo, 18 mo, 24 mo)

Measurements
waist: approx. 17 (18, 19 1/2, 21, 22)" (adjustable with elastic)
inseam: 6 (7, 8, 9 1/2, 11)"
length: 11 (12 1/2, 14, 16, 18 1/2)"

Materials
- 2 (3, 3, 4, 4) skeins Knitpicks Shine Sport
- size US6 circular needles
- stitch markers
- tapestry needle for weaving in ends
- 17 - 24" of 1/2" elastic waist band

Gauge
5 3/4 sts. and 8 rows = 1" sq.



Instructions

Leg:
Cast on 60 (64, 68, 72, 78) stitches. Work 15 rows of garter stitch (knit every row). Switch to stockinette stitch and work decrease row as follows:
Decrease Row: K2, K2tog, k to last 4 stitches, ssk, k2.
Continue in stockinette stitch, repeating decrease row every 6 (8, 6, 8, 6) rows until 54 (58, 60, 64, 68) sts remain.
Work 5 (5, 7, 7, 7) rows even in stockinette stitch. On next row, work increase row as follows:
Increase Row: K1, kf&b (knit into front and back of next stitch), k to last 3 sts, kf&b, k2.
Continue in stockinette stitch, repeating increase row every 6 (8, 6, 8, 8) rows until 60 (64, 68, 72, 78) sts remain.
Work 3 (3, 5, 5, 7) rows even in stockinette stitch (here's a spot where you can add a little length if you need to - work a couple extra rows here for a longer leg), then bind off 2 sts at beginning of following two rows.
Place remaining stitches on stitch holder or scrap yarn and set first leg aside. Knit second leg the same.

Hips:
Put legs together to form pants by folding legs in half lengthwise and laying them next to each other with edges to be seamed facing each other along the inside of leg. With legs in this position, place all remaining stitches of both legs on circular needle. Beginning at center back, place marker, join to work in the round and knit to front center where legs come together. Place marker and knit around to first marker. Work one more round in stockinette stitch (knit all stitches), then begin decreases as follows:
Decrease Round: K1, k2tog, k to 3 sts before second marker, ssk, k1, slip marker, k1, k2tog, k to 3 sts before first marker, ssk, k1.
Continue in stockinette stitch, repeating decrease round every 6 rounds until 100 (104, 112, 120, 128) stitches remain.
Work even in stockinette stitch until pants measure 10 1/2 (12, 13 1/2, 15 1/2, 17 1/2)" (or desired length). Make opening for tie as follows:
Round 1: Knit to 2 stitches before second marker, ssk, remove marker, k2tog, knit to end of round.
Round 2: Knit to opening, yo twice, knit to end of round.
Round 3: Knit to yarn overs, knit first yarn over and make1 with strand from second yarn over, knit to end of round.
Knit 2 rounds even, then purl one round for turning round. Knit 6 rounds even and bind off all stitches loosely.

Finishing:
Fold over hem at turning round and whipstitch into place on the inside of pants. Cut elastic band to about 18 (19, 21, 22, 23)" unstretched or desired length (so that it's slightly snug around baby's waist) and thread into opening and through entire hem. Overlap first and last inch to close loop and with sewing thread, stitch elastic together. Make twisted cord, braided cord, or crochet chain approximately 30 (32, 32, 34, 34)" long and thread through opening.
Sew inside leg seams with mattress stitch. Graft bound off stitches at crotch together. Weave in all ends. Slip pants onto adorable baby and say "awwwwwww".




---
all patterns and images © Alison Hansel
and are shared here for individual personal use only