happy MagKnits knitting!



nothing but a t-shirt

"With nothing but a t-shirt on, I never felt so beautiful"
Inspired by the Jessica Simpson song and Rowan's incredible Calmer yarn, here is a comfy, feminine t-shirt you can feel beautiful in. Rowan's soft cotton/microfiber blend is the perfect yarn for a summer tee - it's unbelievably light and feels so wonderful directly against the skin, you won't want to wear anything else! The elasticity of the yarn gives the stitches a neat, even look and allows the tee to follow your curves. To recreate the fit of a smooth, close-fitting t-shirt, this tee is constructed with strong waist shaping and hems at all the edges. Work the neck and sleeve edges in a contrast color for a ringer tee and bring in some retro style by adding some fun text or a graphic design. Use one of the designs provided (three of the text designs are actually calmer color names!) or make your own images by printing out an image on knitter's graph paper.

Featured in MagKnits Warm 2005 issue, which is unfortunately no longer online. Download the pattern PDF here.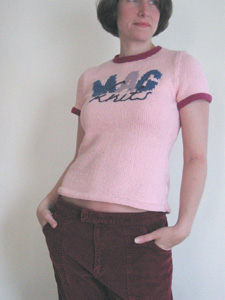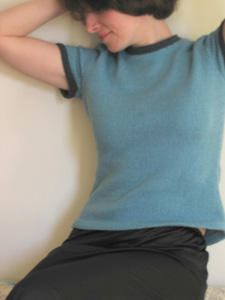 Yarn Substitutions

I've received several questions regarding possible yarn substitutions. Coming up with substitutions for Rowan Calmer is hard! The yarn is so unique with it's softness and lightness and elasticity. I didn't put any substitutes in the pattern because I just don't know of anything that is going to knit up as well. But when pressed to come up with some ideas, here's what I think....

GGH's Samoa and Rowan all seasons cotton are a bit larger in gauge, but might be good. Since they are cotton/acrylic blends and are spun so neatly they have more elasticity than 100% cotton and are both very soft. Sirdar Breeze looks to have a similar sort of quality, so it might be a good lower-cost option. Otherwise, if you can find a cotton that is lightweight and even has a little elastic in it, that might work well. You could try Cascade's Fixation yarn since it has elastic, but it has a very different texture. Dale's Svale yarn would be lovely, but instead of being elastic and hugging your curves, it will be more drapey. Elsebeth Lavold's cotton patine is 100% cotton, but feels wonderfully soft. It has a matte look like the Calmer and is just about right in terms of gauge. Debbie Bliss' new Cathay cotton, with it's silk content, would make a beautiful, light tee, although the yarn has a sheen to it that the Calmer doesn't and it might be a slightly finer gauge. Cathay would certainly be good if you're looking for a wide range of colors, as would Rowan's handknit dk or cotton glace, or Debbie Bliss's cotton dk. The latter choices won't be as stretchy or as light, but the colors are very pretty. Another possibility is Debbie Bliss's wool/cotton which has some wool in it giving the yarn some stretch, but is suuuuper soft because of the cotton. It comes in AMAZING colors and is on sale now in lots of stores because it's just been discontinued.

Heck any cotton you like in the right gauge will do fine, if you're willing to give up a bit of the elasticity. You don't even have to stay with cotton. For example, I think Rowan's new Cashsoft DK would be fabulous. It's lightweight enough that it could work for a summer garment. So overall, I'd really just recommend staying with soft and lightweight.


---
all patterns and images © Alison Hansel
and are shared here for individual personal use only