happy scarf knitting!




orange bliss scarf

This yarn is so wonderful to wear around your neck. If you're looking for a simple yet luxurious scarf, you've got to make yourself one of these!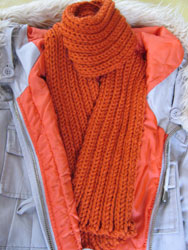 Yarn: 2 balls Debbie Bliss Cashmerino Superchunky
Needles: US11
Finished Measurements: approx. 45" long x 5" wide (unblocked ribbing)

Cast on 22 stitches. Work in 2x2 rib, as follows:

Row 1: k2, *p2, k2*, repeat from * to * to end of row.
Row 2: p2, *k2, p2*, repeat from * to * to end of row.

Repeat rows 1 and 2 until you have about 3 feet of yarn left. Bind off loosely in rib. Weave in ends.

I told you it was easy!


---
all patterns and images © Alison Hansel
and are shared here for individual personal use only