happy tech knitting!



techguy socks

This sock pattern, written for supersoft, superlight, superwash sport weight yarn, is a great basic pattern that can be used to make your tech guy smart looking socks with just a touch of tech. Or, if your guy's not so geeky, leave out the tech and make regular guy socks. (Heck, knit the small size and make some for yourself!) For techy socks, use one of the charts provided or make your own. In fact, most of the images from old video games or computer screenshots are already pixelated for you. Just draw in the graph lines and you've got yourself a chart! For plain socks, I recommend using a manly 3x1 rib down the leg and top of the foot.

Either way, the socks are knit with short-row heels and toes for greater comfort and less bulk. Of course, you can always substitute standard heel flap and toe decreases for the short-rows, but if you're up for some fun, try it out! The pattern follows Priscilla Gibson-Roberts' technique of using backward yarnovers to construct short rows. Don't worry, doing short rows is just like knitting socks: it may look frighteningly complex, but just follow the directions and it'll all be okay. If you'd like more information on Gibson-Roberts' technique, check out her book Simple Socks: Plain and Fancy.

Featured in Magknits Feb 06 issue, which is unfortunately no longer online. Download pattern PDF here.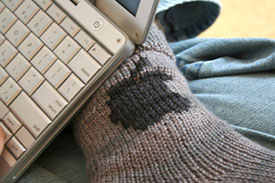 ---
all patterns and images © Alison Hansel
and are shared here for individual personal use only