recycled cashmere

Hourglass sweater from Last Minute Knitted Gifts in cashmere/cotton blend yarn
reclaimed from an old Banana Republic sweater in a february fixit marathon


---




march 18, 2005


cashual friday

Hourglass progress?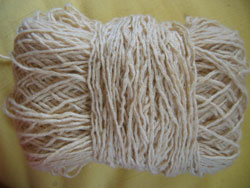 I ripped the body out entirely and cast on again including the eight stitches I'd left out before. I haven't quite made it to where I was before, which is why my formerly perfect ball of cashmere is still being strangled by the frogged yarn. I was just discussing with Shannon the other day (as both of us were knitting from wads hanging off of center-pull balls) that the center-pull ball is a wonderful thing, unless you make a mistake. It's very unforgiving!
The new version of the body isn't really looking too different than in the last picture. It is most definitely looser, but still doesn't look big or drapey. It hugs my curves rather than stretches out across my widest parts. After seeing Diana's finished hourglass, I think it'll be a nice look. So onward to the increases and the yoke!
---



march 11, 2005


cashual friday

Two hourglass sleeves done! Oh, how I love the subtle shaping on these sleeves.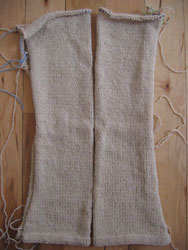 I started the body, but am concerned about how it's coming out. Others had said that their hourglass sweaters were running a little large, and there's a big gap between the two smallest sizes, so I decided to cast on a number of stitches between the two sizes. Well, what I've got fits me like a glove, but I'm thinking that the whole hourglass shaping needs more ease to really look lovely. What do you think?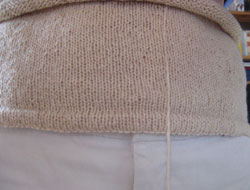 ---



march 4, 2005


cashual friday

I'm trying not to knit up my hourglass sweater too quickly so I can savor the cashmere as long as possible. It's been hard stopping myself from just casting on the body and flying forward because the recycled cashmere is knitting up very easily and feels wonderful on the needles. This week I succeeded in only finishing the first sleeve (up to the beginning of the armhole where it will be joined to the body).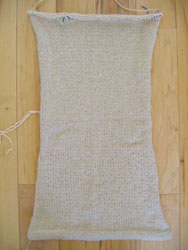 look, the sleeves are hourglass shaped as well
I couldn't help myself and I started the second sleeve too. Hint: it's looking just like the one above.
---



february 25, 2005


hourglass

I've decided on a pattern to use for the cashmere yarn recently reclaimed from my old Banana Republic sweater!

After swatching, I peeked at all the great pattern suggestions you made last week (I was so tempted by that new vintage cardigan in IK!). But then I randomly opened a few mags that I had lying around (I so need to organize my pattern stash!). While shuffling stuff around, I found the hourglass pattern from Last Minute Knitted Gifts. The look is casual and yet classy and the gauge is spot on! And there's a knitalong for it. Cool!

Since I've only ripped the sleeves of my sweater so far, I've started with a sleeve. (No, I'm not doing the sleeve in the round like the pattern calls for. I was too impatient to go out and look for smaller circular needles!)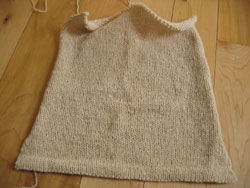 You can't imagine how soft this is. It's going to be a real pleasure to wear.
---



february 17, 2005


we have cashmere

I can't wait to use this cashmere!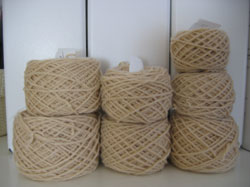 that's two sleeves and the neck's worth
Before I rip out the rest of my old Banana Republic sweater, I took note of the gauge and actual measurements of the original sweater (as suggested by Kristi's very helpful page on recycling yarn from old sweaters). The boys were happy to oblige when I needed an object for scale.

biiiiig sweater
It is so big, I'm really hoping to have enough yarn to knit an entire sweater. But choosing a pattern for this special yarn is proving just as hard as choosing a pattern and yarn for my sock pal was. Since it's cashmere, I was kinda thinking something classic, simple (no cables or fancy details), and maybe a little vintage. Any suggestsions?
---



february 4, 2005


on to february

A to do list.

Sockapalooza pal socks. Thanks everyone for your support about the Koigu. I'll do a bit of swatching and see how the pattern looks in the yarn. If it looks really good, I'm going back to buy two more skeins for me!

January sweater. Maybe I can finish it in February, so I can start on....

February shrug. I'm thinking that in February, I might have time to make a pretty little shrug. Mindy's shrug pattern looks perfect for keeping my chilly arms and shoulders warm (Jenn just finished one in that incredible Softy yarn). I've got some Peruvian wool that Shannon had left over from her fabulous neckwarmer that I think would work well.

Pop redesign. I WILL finish pop this month. And all you February fixers are really inspiring me to get this one done!

Rosebud redo. Just a little shortening in arms and she'll be all better.

Yarn harvesting. A little ripping to relax the soul. I've got the two old storebought sweaters to rip and then greensleeves for sure. I'm considering ripping elizabeth and turning her into a Clapotis. What'cha think?

Fry-Up. Stacey has cooked up the silliest knitalong ever (next to those crazy sweatpants we all made last year). I gotta make this one - it's just too wacky! But I don't want a purse (let's not even discuss the hat) and will have to substitute some of the breakfast items. This one still needs more planning and yarn to get going.

Hubby's xmas socks. That Morehouse Merino yarn is still waiting to be turned into socks.

Jodie's socks. Found some fabulous sock yarn at Knitting Zone for my mom's friend who wants more handmade socks, including this supermerino. Pretty, pretty.

That should be enough to keep me busy until the spring thaw!




---
all content, design, and images © 2002-5 alison hansel