happy nbat knitting!



nbat4kids

A year later and the nothing but a t-shirt has offspring: the baby and kids' tee! This tee is knit in a machine-washable cotton/acrylic blend in a gauge close enough to the original pattern that you can make mom & kids matching tees. The pattern contains a unisex version perfect for any little one and a "girly" version for little ladies who want a tee just like mommy's. If you knit the unisex tee in a solid color, this would be a great beginner sweater pattern If you're up for the challenge, create a fun image of your own to put on your child's t-shirt!

Featured in Magknits Jan 06 issue, which is unfortunately no longer online. Download pattern PDF here.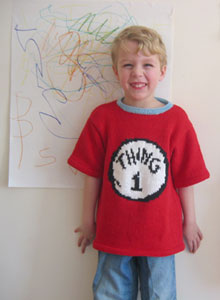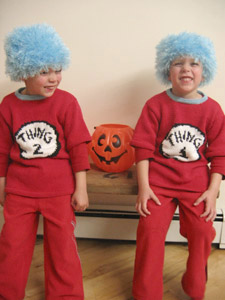 The pattern started in a moment of knitting insanity, when I decided to knit the boys' Halloween costumes. I'd been wanting to make boy-sized versions of my nothing but a t-shirt pattern and once I thought of putting "Thing 1" and "Thing 2" on them (from Dr. Seuss' Cat in the Hat), I knew I had to try to get them done for Halloween. GGH Bali came in just the right gauge and colors and bright blue Fun Fur was perfect for Thing hair. The pattern I made up for the wigs can be found here. Read the project archives here.



---
all patterns and images © Alison Hansel
and are shared here for individual personal use only