feather and fan shrug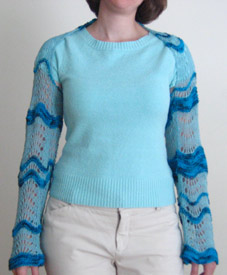 store pattern from Downtown Yarns in NYC, knit in Koigu and JaggerSpun Zephyr


---




september 12, 2005


shrug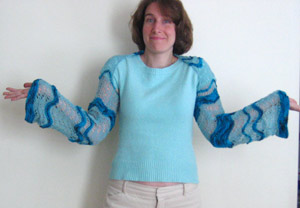 Well, what do you know, it's a finished shrug! The lace blocked out quite a bit, so with the six inches or so that I added, the sleeves reach to about the base of my thumb. I would have been happy with anything from wrist to knuckles, so I'm thrilled with this length. And I so love that the whole thing is unsymmetrical and freeform. Especially in the back.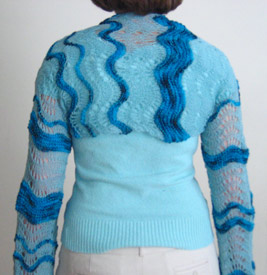 The lace pattern makes the shrug seem fancy but the irregularity of the pattern keeps it from being too serious. It's just a delightful piece.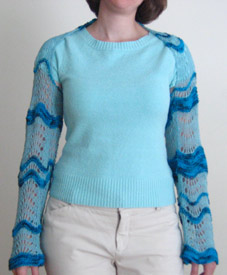 When I put it on yesterday, the boys noticed it right away. S touched it lightly and said, "is that your new sweater? It's so pretty." Sweet boy. And B, holding his own feather and fan blankie, took one look and said, 'it's just like my blankie!" Smart boy.
---



september 11, 2005


the shrug she is a-blocking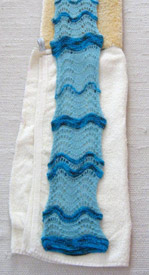 wanna see the BIG picture?
I followed the pattern exactly - the so-called "foolproof" feather and fan pattern - and, call me a fool, but when I got to the end it wasn't near long enough to reach from wrist to wrist. Doh! So I added a few more feather and fan repeats and another koigu garter stitch section (I ended up with about 6" of koigu left!) and am now blocking out the lace. I can't wait to see how it looks when it's dry.
Dry, shrug, dry!
---



august 11, 2005


shrug a bit

I'm shrugging as fast as I can too. I've got a ways still to go if I want to wear this to Downtown Yarns this weekend.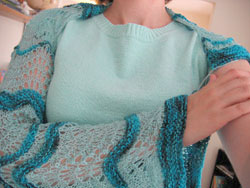 It's really starting to look like a shrug now though. I seamed up the first sleeve and have knitted across the back up to the start of the second sleeve. I love how the first sleeve turned out after seaming. It's just the right width, in my opinion: nice and loose, a little bell shaped, but not overly drapey. Perfect!
I think I may need to buy myself a new sundress just to wear with this shrug. Don't you?

---



august 5, 2005


scarf mile

Okay, it's a shrug and not a scarf, but I couldn't help myself.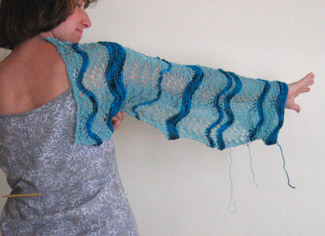 I'm halfway through the feather and fan shrug. Still haven't sewn up the entire armhole, so I have to sort of hold it together at the underarm to get the full effect. She is pretty, though, isn't she? I'm hoping to have her all done in time to wear on my next trip down to NYC (and to Downtown Yarns, where I got the pattern) in two weeks. I need to finish my two other scarves - the candy cane scarf and the ruffles scarf - for that trip too, since they are birthday presents.
The lace is lovely, blue and deep
But I have promises to keep,
And miles to knit before I sleep,
And miles to knit before I sleep.
---



july 23, 2005


making waves

I have so many other things I want to knit right now. So many more practical things (seriously, when am I going to wear lace??). But I am so loving the colors and the yarns and the wave pattern in this feather and fan project that I find myself graviatating toward it every night. I reach right past my long-sleeved NBaT, right past katy, right past my design projects, right past the sockapal-2-za sock yarn, and grab this shrug.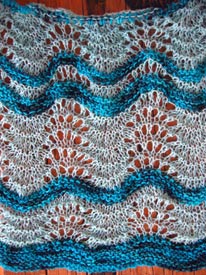 this was two days ago - I'm loads further now!
The first time I posted about this project, many of you called it a scarf, but it's really going to be a shrug. It is knit like a scarf, but the sides will be sewn together for several inches at the "top" and "bottom" to make sleeves. After several nights of obsessive knitting, I progressed past "sleeve" length, and sewed up the cuff a little, so I could get a better sense of how it will look on.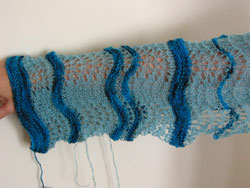 see how much I've been neglecting my other projects?
I love that the stripes and the pattern repeats are random. (Well, I'm following a sequence of stripes and repeats and pattern variations, but the designer didn't make them according to some ratio or even symmetrical from one sleeve to the other.) It's so much fun to let go for once and simply watch something develop into whatever it's going to be. So many times, the goal of knitting is to reproduce a pattern perfectly - get all those beautiful cables in katy to look as crisp and neat as in the pattern picture, for example - but with this shrug, which doesn't have a "perfected" design and which I only saw once in person anyway, those sort of expectations just don't hold. Perhaps that's precisely why I'm so drawn to this project right now.
---



july 16, 2005


feather and fans

Back in NYC for a "make-up" visit for my son S, who missed the last one two weeks ago with a fever. I started a new project to bring with me in case I find some time to knit (fat chance with two 4 year-olds on the train!). I thought it only fitting that I work on the beautiful feather and fan shrug that I found at Downtown Yarns on the last trip.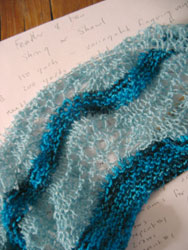 Koigu and JaggerSpun
And speaking of fans, after putting the boys to bed last night, I went over to the local Barnes & Noble and stood in line with the other obsessed fans and quidditch seekers to buy the latest Harry Potter book at the midnight release. They handed out free posters and Harry Potter glasses.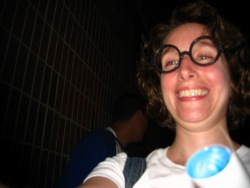 don't I look like Trelawney in those glasses?
Those of use who had not reserved copies of the book received orange wristbands and waited well past midnight until all of the folks with reserved copies bought their books. At 1:10 our line started moving!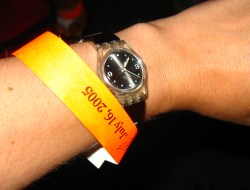 let my orange people go
At 1:20, I had my book.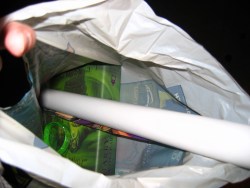 hooray!
---



july 4, 2005


bdays

I just got back from a quick happy birthday trip down to NYC with my son B to see grandma. (Poor S had to stay home with daddy and 103 degree temperature.)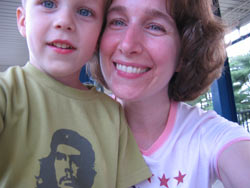 B was thrilled to ride on the train. He spent three hours of the four hour ride happily looking out the window, leaving me with a surprisingly great deal of knitting time. He did insist on helping me with the cables on katy though.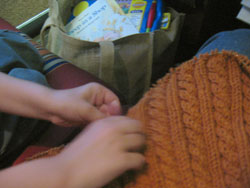 On Saturday, I got to go to Broadway - no kiddies, just me, other theater-going adults, and a lot of spam.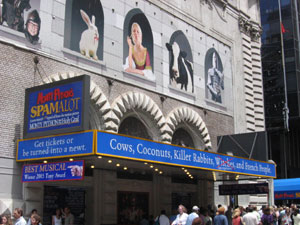 Then we took a walk in the park and went home to eat cake. Yum!
There was just enough time before the ride back on Sunday to do a little knit-tourism. First up was the new knit cafe in town, the Point. (Where I picked up a t-shirt and some sock yarn - surprise, surprise.)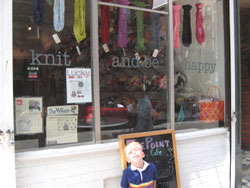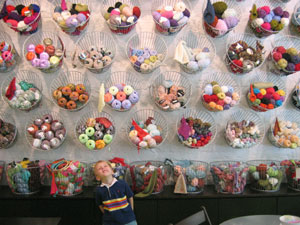 And of course, a must for every NYC knit-trip, Downtown Yarns. B even helped wind the Koigu I bought! (I'm going to make the shrug that the woman helping B is wearing.)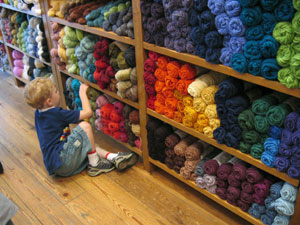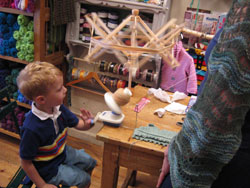 And then we came home, I dropped the suitcase on my foot and got to spend the first three hours of my real birthday in the ER. Happy, happy. Result: a bad bruise, no broken bones, and half a Fixation ankle sock complete. I'll be spending the rest of my birthday on the sofa with my foot elevated. And most likely watching the fireworks tonight on tv.
So happy birthday to me and God bless America, home of the free, the brave, the most fabulous knitting stores in the world, and 24-hour healthcare!
---
all content, design, and images © 2002-11 alison hansel