---

Wanna skip to the sock yarns??


---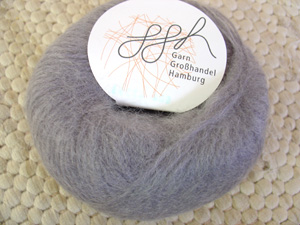 8 balls GGH Soft Kid
Lovely mohair yarn bought for a sweater in "Rebecca". Color #4, gray.

$60 [SOLD]
---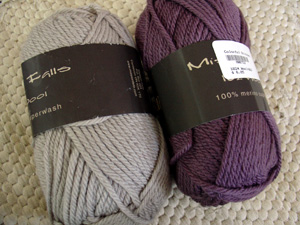 9 balls Mission Falls 1824 Wool
Wonderful wool. 5 balls #03, gray, and 4 balls #23, purple. You could make two small baby sweaters or something stripey!

$40 [SOLD]
---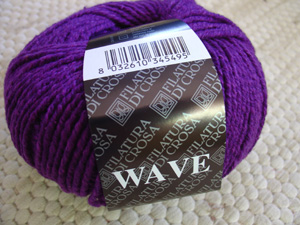 4 balls Filatura Di Crosa Wave
Left over from my motherhoodie sweater. Wool/silk blend that knits up beautifully. Color #24, purple.

$30
---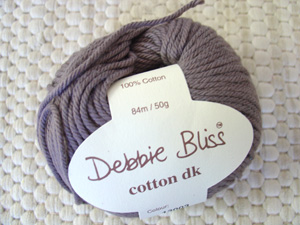 4 balls Debbie Bliss cotton dk
Excellent cotton yarn, bought for baby bell bottoms. Color #13003, gray.

$16 [SOLD]
---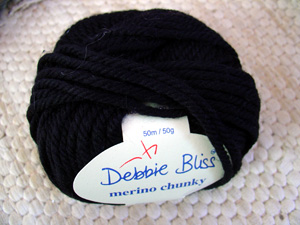 7 balls Debbie Bliss merino chunky
Great stuff! Never figured out what I wanted to do with it. Color #300, black.

$40 [SOLD]
---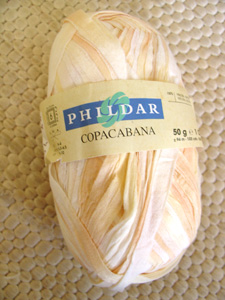 5 skeins Phildar Copacabana
I saved this yarn to make another tiny tank, but never got around to it. Lucky you! Color #04, "natural".

$30
---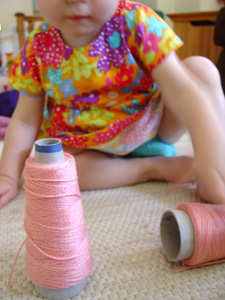 6 Halcyon Yarn 3/2 Pearl Cotton mini cones
Bought to make Hush Hush. Color is a lovely peachy/pink. Entertaining for small children too!

$20 [SOLD]
---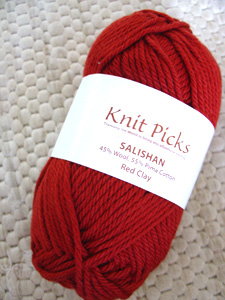 5 skeins Knit Picks Salishan
Wonderfully soft wool/pima cotton blend, only offered for a brief time by Knit Picks, in a lovely, earthy red (color #0178 - "Red Clay").

$20 [SOLD]
---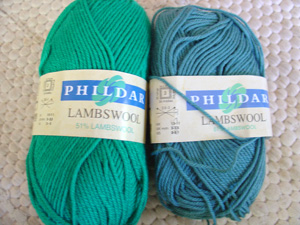 7 skeins Phildar Lambswool
Excellent fine-gauge wool from Phildar. I loved that green, but never found the right project for it. 6 balls #217, "Menthe" (on left) and 1 ball #216, sage green (on right).

$30 [SOLD]
---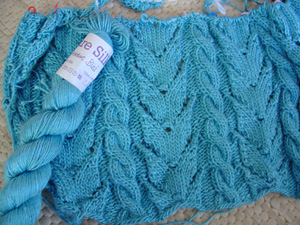 6 skeins Debbie Bliss Pure Silk
I started the lace shrug from the Debbie Bliss Pure Silk book with this. The yarn is gorgeous, the shrug is gorgeous. I just put it down and can't summon the effort to pick it up again. 6 balls total in color #07, turquoise. 2 balls are already knit. You can keep knitting or rip, wash, and start something new!

$50 [SOLD]
---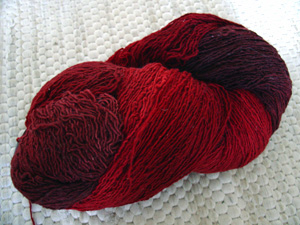 1 quad skein Morehouse Merino Lace
Bought to make another Melody shawl. Buy the pattern and make one yourself! 880 yards in deep reds/brown.

$25 [SOLD]
---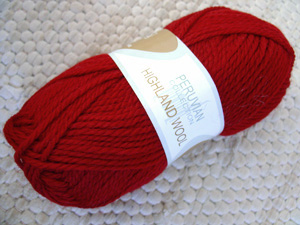 9 skeins Elann Peruvian Collection Highland Wool
We all know and love this yarn! Color #2055, ruby. (You might want to check the elann site for a better look at the color. My camera is crap with reds.)

$12 [SOLD]
---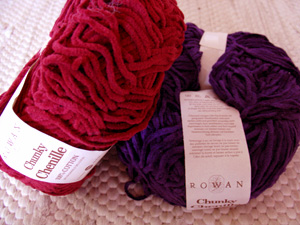 10 balls Rowan chunky chenille
Gorgeous colors! Bought for Iona from Alice Starmore's Celtic Knits. 8 balls #356, purple, 2 balls #382, wine red.

$50 [SOLD]
---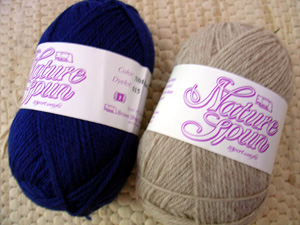 6 skeins Brown Sheep Nature Spun Sport
Perfect for your Ravenclaw house garments! 3 skeins "Blue Knight", 3 skeins "Ash".

$15 [SOLD]
---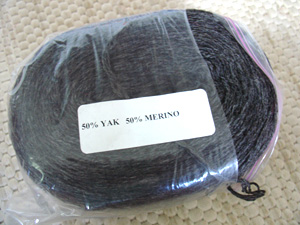 3 balls School Products Yak Merino Worsted
This stuff is so soft. And it's from yak!! How cool is that?! See the School Products site for more info about this yarn. There's gotta be well over 1000yds here, in dark gray.


$30 [SOLD]
---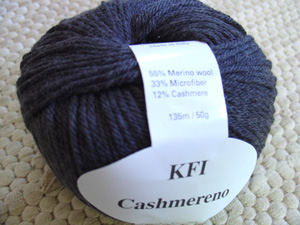 3 balls KFI Cashmereno
Love this cashmereno! I bought it for socks, but never made them. Color #11, gray.

$15 [SOLD]
---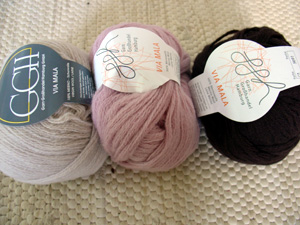 11 balls GGH Via Mala
Bought for a Rebecca sweater years ago. 5 balls #33, beige, 4 balls #01, chocolate brown, 2 balls #29, pink.

$65 [SOLD]
---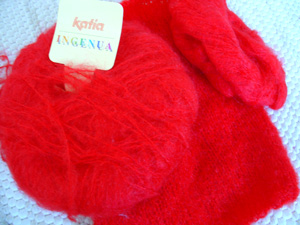 7 balls Katia Ingenua mohair
Such a pretty red. But I have too many kids to be wearing a mohair sweater. 1 ball has been knit and needs to be frogged. Color #04, red.

$40
---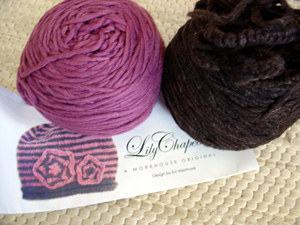 1 Morehouse Merino Lily Chapeau KnitKit
Beautiful yarn, super cute hat pattern. I wound the yarn and then we got off on the wrong foot, er, needle. You wanna try?

$15 [on hold for A]
---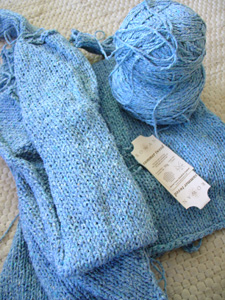 8 skeins Rowan summer tweed
This one needs some love. I knit all but 2 hanks into a crazy sweater and then totally decided I didn't like it. Needs to be frogged, washed, and rewound, but then you're ready to go for a whole sweater! Color #500, light blue.

$40 [SOLD]
---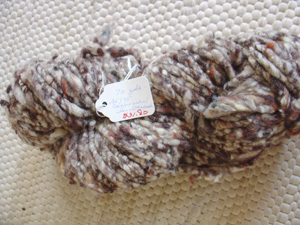 1 skein chunky cashmere/lambswool handspun
Local handspun cashmere, bought at Circles, my local store focusing on small farms and unique yarns. It's sooooo soft. 70 yards in beiges, browns. Treat yourself!

$15 [SOLD]
---


1 Petit Pinquouin sweater kit
Got this at a yarn swap. A cute kit to make a baby sweater, complete with instructions, yarn and trims. A very nice acrylic - excellent for making allergen-free preemie and newborn items! 4 balls sport/fingering weight in white for a total of 1000yds.

$10 [SOLD]
---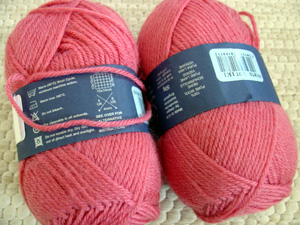 2 skeins Jaeger Matchmaker DK
I bought three of these for a wee baby sweater, but have lost one of them. (Sign #142 that your stash is too big.) Color #870, salmon pink.

$5 [SOLD]
---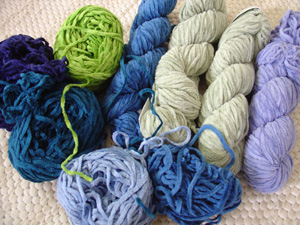 Crystal Palace cotton chenille grab bag
Leftovers from the geek spiral sweater I made, along with 4 whole hanks in similar colors. Would be great for a stripey baby blanket or sweater!


$20 [SOLD]
---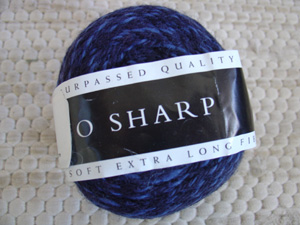 2 balls Jo Sharp DK wool
Great yarn in a handsome dark/light blue marl (color #706). I bought it to make socks.

$8
---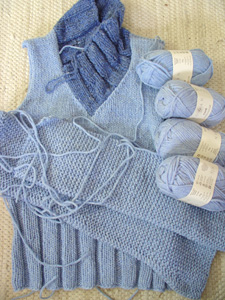 8 skeins Rowan Cork
Oh, I had such high hopes for this yarn. I started one sweater with it, then changed my mind and knit sleeves of another sweater, then changed my mind again and knit the body of a third. I give up! Four balls are still unused. Get frogging and you'll have 8 (it may even be 9) balls, plenty for a whole sweater. Color #046, light blue. Plus a bonus two balls of Lana Grossa Royal Tweed (one knit into collar, one unused) in color #10.

$50 [SOLD]
---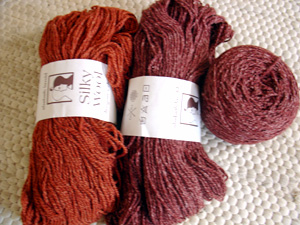 7 skeins Elsebeth Lavold Silky Wool
Love this yarn! I'm almost done with a sweater in red silky wool, but don't quite know what to do with these. Do you? 3 in color #06, orange, 4 in color #016, "mahogany".

$40 [SOLD]
---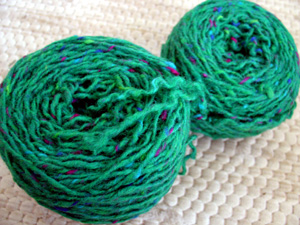 Tahki Windsor Tweed
I knit an entire sweater with this and then, when I lost my post-baby weight and it didn't fit anymore, I frogged it. You wanna make something with it? Fun, bright green color. Would be great for kids' outerwear.

$25 [SOLD]
---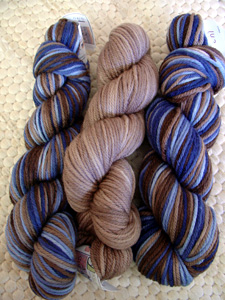 3 skeins ArtYarns Supermerino
These are gorgeous! Left over from a yet unpublished baby sweater design of mine. 2 hanks color #143 (dark blues, browns), 1 hank #249 (coordinating brown).

$18 [SOLD]
---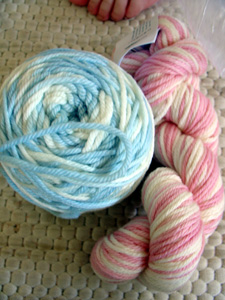 2 skeins ArtYarns Supermerino
These would make awesome baby booties. Look, here come some tiny feet now! 1 hank pink/white, 1 hank light blue/white.

$12 [SOLD]
---


AND NOW THE SOCK YARNS....

(note: some lots appear together in the same photo, but are being sold as listed)



---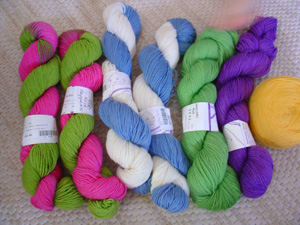 2 Lorna's Laces Shepherd Sock "Knit Happens"
Special pink/green colorway for Knit Happens.

$18 [SOLD]
2 Lorna's Laces Shepherd Sock "denim stripe"
Self-striping yarn from Lorna's Laces. Color #4742.

$18 [SOLD]
4 Lorna's Laces Shepherd Sock
1 "carol green", 2 "grapevine", 1 yellow. These would make great stripey socks!

$24 [SOLD]
---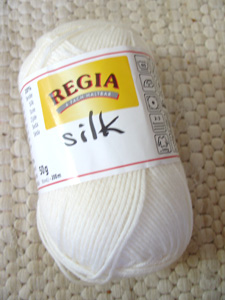 4 Regia Silk
So soft and machine washable! Color #002, white.

$20 [SOLD]
---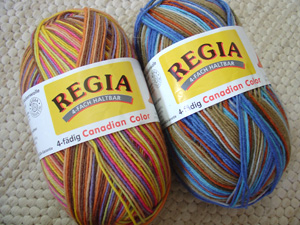 1 Regia Canadian Color
Hard to find, self-striping yarn from Regia. Color #4730, "Montreal", yellow, pink, lilac in narrow stripes.

$10 [SOLD]
1 Regia Canadian Color
Hard to find, self-striping yarn from Regia. Color #4742, blue, browns in stripes of differing widths.

$10 [SOLD]
---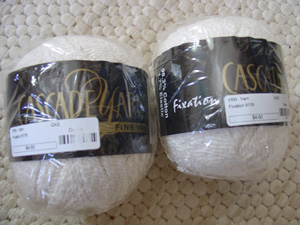 2 Cascade Fixation
Would be great as ankle socks! Color #8176, white.

$5 [SOLD]
---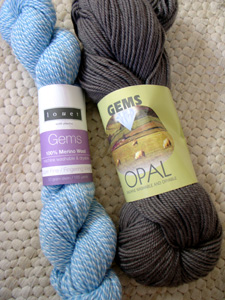 1 Louet Gems Pearl
Perfect for baby boy booties! Color "Baby Neptune".

$5 [SOLD]
1 Louet Gems Opal
Enough for a pair of socks! Color "Pewter".

$10 [SOLD]
---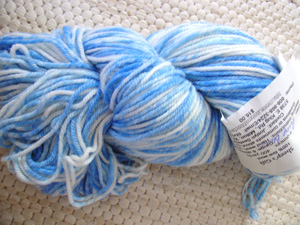 1 Joslyn's Fiber Farm Sheep's Gift
400 yards sport weight sock yarn from wonderful farm. Light blue/white.

$10 [SOLD]
---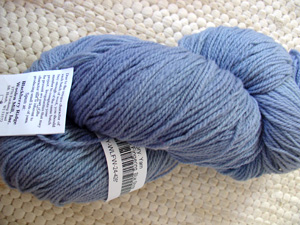 1 Blackberry Ridge fingering weight
450 yards super soft wool. Color is "blue stone".

$10 [SOLD]
---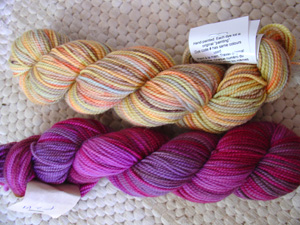 2 Koigu KPPPM
Color #P620, yellows, peaches, beiges.

$18 [SOLD]
1 felting Koigu
New Koigu for felting. Color #F214, lilacs.

$5 [SOLD]
---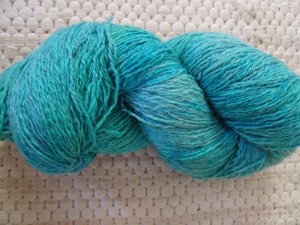 1 Hipknits handpainted cashmere sock yarn
Beautiful sea green color. You'll have the happiest toes ever!

$10 [SOLD]
---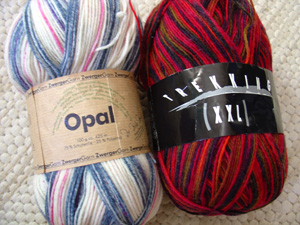 1 Opal sock yarn
The classic! Color #158, white/blue/pink.

$7 [SOLD]
1 Trekking XXL
Color #36, dark red/dark brown/black.

$10 [SOLD]
---

Take me back to the top!


---

Contact me by email - alison AT knitsmiths DOT us - if you are interested in any of these. You can pay me by PayPal or check and we can split the shipping costs. I will update the page as the yarn goes. Once someone has asked for a lot, I'll mark it "on hold" and once I receive payment, I'll change it to "sold".

Thanks for looking!