where the blue blog goes on vacation and does very little knitting

Columbus Germany 2003 Germany 2004


---




april 11, 2003


brown goes out of town

Hubby's birthday is right around the corner, so it's time to pick up that vest I started so long ago and get cracking! I've finished the back and will be bringing the rest with me on vacation next week. We've got a 12 hour car ride, but I'm not sure I'll get any knitting done, since whoever's not driving is on baby-entertainment duty and I know the boys don't find my knitting all that entertaining.

For those who are curious, we're going to a boardgaming convention in Ohio. Last time we went was two years ago when I was six months pregnant with the boys. There are lots of pics of us at the convention here. Boardgaming is my other hobby, but since the boys were born I've become more of a homebody and don't get out to play very much. So next week, I'll be putting the knitting needles down for a bit to catch up with my gaming buddies. And when I'm not gaming, I'll be out with the kiddies finding fun stuff to do in Columbus. Whew, I'm tired already!




---



april 14, 2003


take me away!

Twenty-four hours until we hit the road for Columbus and the stress level is rising. There's just so much to plan and get done before tomorrow. I'd hoped to finish the minimono-matching happy baby hat before we left, but that was a bit unrealistic. It's my own fault though, because I stopped working on it here, at the point of picking up stitches to make the ear flaps, and decided to cast on the front of my husband's brown vest.

Casting on is, after seaming, often the hardest part of a project for me. It seems as if I'm always counting wrong and having to rip and cast on again. And I prefer the look of the knit-on cast-on, which is unfortunately way slower to do than the basic two tail method. So my brilliant plan was to cast on and do the ribbing at knitting group on Sunday and then I'd have the simple stockinette to do in the car. I cast on, counted, recounted, did the ribbing and was the whole time slightly concerned that it wasn't cinching in as much as the ribbing on the back. Hmmmm.... Finished the ribbing at home, went to switch to larger needles, and -- you guessed it -- I was using the larger needles already. Doooh!

In order to recouperate, I started reknitting the Rebecca tank. Despite having knit almost the entire first skein for a size too large, I am really loving this project. The actual knitting is a dream! I cast on correctly (both times now!) and was able to knit away happily. I credit the yarn for making this project so enjoyable regardless of whether I'm really progressing or not. (I think I'm becoming addicted to it -- I've got several more happy all season's cotton tanks planned already!) Last night, I only indulged in a couple of inches of happy, because I'm saving the rest for the twelve-hour car ride.

Now back to the packing. A bag of happy for mommy, and a case of happy for the boys and we're all set! I'll probably be able to update once or twice while we're away, but I'll miss being able to surf through all my daily reads. Please keep stopping by and sharing your comments. I'll catch up with you all when I get back. Until then, happy knitting!




---



april 16, 2003


road trip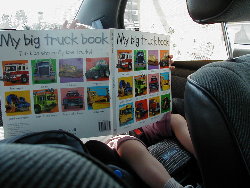 My children amaze me. They were great for the whole ride to Columbus. They enjoyed themselves in the car looking at their books and listening to music, and had an even better time checking out all the trucks at the rest stops. When we would get out of the car to go look at the big rigs, it was like they were thinking, 'oh, yeah, no wonder we drove four hours to get here, this rocks!' They did get bored and a little cranky right before we stopped to have dinner, but nodded off after we ate and slept until we arrived late last night. What great little troopers they were!
Between pointing out trucks and picking up dropped toys, I was even able to knit the sleeves for my Rebecca tank. Cute, no? There's lots of fun to be had here in Columbus and at the convention, so I probably won't get much more knitting done until the trip back. But I should be able to post some vacation pics over the next few days. Stay tuned for the blue blog on vacation!
---



april 17, 2003


sunny day
It was a beautiful day here in Columbus yesterday and it would have been silly to waste it sitting inside playing games, so we went to the zoo. Benny's favorite thing at the zoo had to be the old carousel. Stefan was a little afraid of it, so he just watched as Benny rode again and again. Oh yean, we even saw a few animals!
And while the boys slept off the excitement of the zoo trip, I finished the back of the Rebecca tank. Not terribly exciting, but I like those neat decreases a few stitches in from the edge and I am still absolutely madly in love with the yarn. And with the weather so nice here, I'm starting to be able to imagine myself wearing my little tank soon!
---



april 18, 2003


is there a knitting store around here?

Well, I couldn't go on vacation without researching whether there was a good knitting shop in the area! After spending a couple of hours at a local playground with the boys yesterday, I took a chance and took them with me to Wolfe Fiber Arts right in Columbus. What a great store! They had tons of great yarn and books and a lot of really good needles and neat notions, too (I'm a sucker for notions!). And I have never seen so many patterns in one place before. Simply incredible. I wish I'd had more time (baby-free time, that is) to really take a look at them all. The boys were very good though and the shop was quite baby-friendly. My double stroller was a bit too big to push around the store, but the ladies in the shop chatted with the boys by the hearth near the entrance (the store is in an old house) and read a few baby books with them. Bonus! I ended up finding some patterns I hadn't seen elsewhere and snapped them up, along with some more Rowan all season's cotton (did I mention that I am in love with this yarn?!). With the boys being so good and the store so great, how could I not get a little something? If you're ever in Columbus, I totally recommend this store. I'm looking forward even more to coming back to the convention next year, so I can go back to Wolfe Fiber Arts!

Otherwise, I've been having too good of a time playing games to really do much knitting. Minimal progress on the front of the Rebecca tank is all I have to report. Hey, I'm on vacation!




---



april 19, 2003


the love affair continues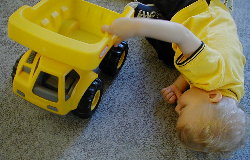 Every new truck is like falling in love all over again. Benny fell for this truck yesterday at the little kidspace at Cosi, Columbus' huge science museum. They have tons of bouncy balls for throwing and rolling, a water area for splashing (complete with little raincoats!), and blocks for building. The kids had such a good time that we went back this morning.
All in all, I've been so impressed with Columbus and its various attractions that I'm a little smitten myself! And as far as knitting goes, I'm still ga-ga over my all season's cotton tank. I've made progress on the front and with a little luck should be able to finish it on the trip, so I can start on the yoke after we get back.
---



april 21, 2003


polly magna doodle all the day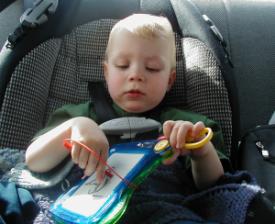 We made it home! The boys were great, although we got nervous when we hit a massive post-Easter, pre-marathon traffic jam on the Mass Pike at about 11pm last night. But they slept right through it and were happy to be back home in their own beds an hour later.
The all season's cotton tank is looking good - I'll post an update photo when I get to the yoke. I've also got a problem with the blog here that I've got to work on. Something happened with the server while I was on the road and things are disintegrating just under the surface. Yikes! But first I have to unpack. Vacation off!
---



september 29, 2003


what next?

I've been asked this question several times during the frenzied finishing fiesta of the last week (two more projects to go to finish the finishing!). Well, I don't know yet. The next project will have to be a good vacation project, since if I get my finishing all done, I'll have a pretty clean slate (except for the mondo poncho, which is too big and bulky to bring with me).

These are my current faves:

filly cardigan
Man, I want to start this so bad!

sooty mango
That's Mango in black, with sleeves. This would make for easy relax-and-chat-with-family knitting.

the blue sweater
I seem to be on a blue kick. And a three-quarter length sleeve kick. Hmm.... How about a blue three-quarter length sleeve sweater like this?

So what do you all think would make the best vacation project?

And judging from my current fantasies, these could be next up when I return:

leigh's sweater
Took the yarn for this stripey sweater off Leigh's hands when it didn't work out for her. Love the colors and the shaping. Mighty tempting.

snowy
Not sure why, but having just finished knitting the ladybug sweater, I'm really itching to start another fingering weight fair-isle! I'm nutty like that.




---



october 17, 2003


gone knittin'

The blue blog vacation report - first edition. We made it and once I get over this jetlag, I'll hope to have some vacation knitting to share. What will I be knitting, you ask?

Well, I had a real hard time deciding. After toying with fandango and then with the leftovers vest (there's a blast from the past!) and reconsidering all my Phildar projects because of the smaller gauge and my wanting to rest my hand, I decided on sooty mango. Easy knitting at a relaxing gauge. Should knit up quickly without being a strain on my hand. I'm going continental on this one. When in Germany....

And the boys will not be left out during this vacation. Becky made sure there was some yarn waiting for me at my in-laws to make little Phildar vests for the twins. Thanks, Becky!

Psst - the knit-alongs are still on, but please email me if you finish something so I can update the list and check it out! From here, I won't have time to surf all my daily reads and fellow knitalongers' sites. (Sniff, sniff). So, be sure to let me know when anything interesting happens, okay?!




---



october 19, 2003


boys in flight

As I explained to the boys that we were in an airplane, Stefan started to say, "fffly, fffly."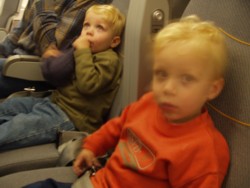 After a take-off snack of cookies and juice, we looked at the "beeeg book" for a while.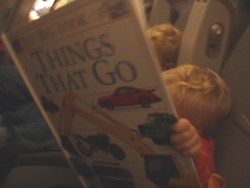 And finally Benny laid himself down on the floor and went to sleep.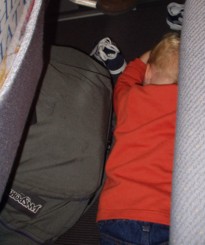 Just like that. For four hours. We were wondering how in the world they were going to sleep in the airplane seats. Gotta be two years old, I guess, to think outside of the box like that. Stefan streched out across his and Benny's seat and slept until we reached the other side of the Atlantic.
And there were many thumbs-up exchanged across the row between me and my husband.
---



october 20, 2003


the Hinterlands

In case you thought I was joking about vacationing in the Hinterlands, here's a picture of the Sunday paper.

As you might expect, it's pretty rural out here. And I do mean pretty.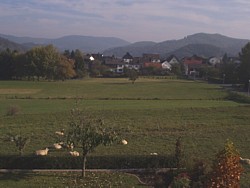 This is a pic from the balcony. The backyard ends at the hedge row right before the sheep. And that's the town beyond the fields. Many of the locals have a small field or two out in the hills that they farm for themselves.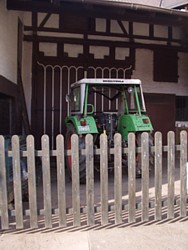 We took a little tour of the village with the boys in search of farm animals and found cows, horses, and some chickens and geese. The geese were very funny.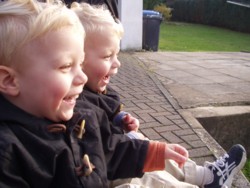 I mean really funny.
---



october 21, 2003


vacation knitting on

After spending one evening recovering from jetlag and the next going to the movies (Seabiscuit dubbed in German!), I found some time to start my vacation knitting and cast on for sooty mango. Here's my progress after a day and a half. The ribbing is a little wonky thanks to my not quite so perfected continental technique, but it's black, so the little imperfections really don't show up. I'm hoping that I'll have better control over my tension when it comes time to start the front. More annoying though are the two knots I've already found in the first ball of yarn. See them hanging there taunting me?! Grrrr.

Besides doing practically no knitting, I'm hunting through the yellow pages for a knitting store in the area. I gotta at least look, right?




---



october 23, 2003


a knitting machine

Much knitting progress to report. Sooty mango is well underway. Once the silly ribbing was over (of course it's ribbing up to the waist), my tension evened out beautifully (yay!) and I made it all the way up to the armholes on the back. Here the official photo.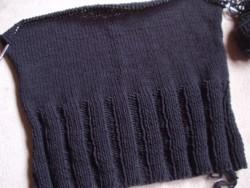 And here a few seconds later as Benny ran across my knitting to get his blankie.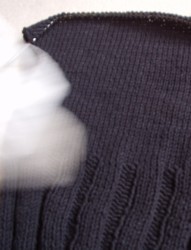 And in the time it took my husband to read the boys their goodnight story (um, well, repeat the goodnight story from memory, since we kinda forgot the books!), I knit up a swatch for their Phildar vests. This is going to be a super easy, quick knit. Bulky yarn... good.
And check out this discovery in the in-laws' attic: an old knitting machine that belonged to my husband's grandparents.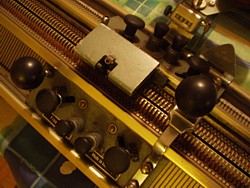 All the parts are there including the old instruction booklet. The machine model is called "Frauenlob" (women's praise). Don't you just love it?! Could it be any more 1950's sounding?! Could it be any more German sounding?! How funny. My father-in-law wants to see if he can get it in working order again so I can try it out. So, more to come!
---



october 25, 2003


born to ride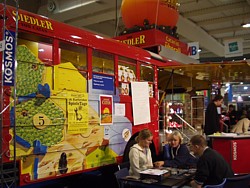 If you know anything about German boardgames, you'll recognize the Sielder bus (if not, you can read a quick intro here). While we're here on vacation, the annual Essen boardgaming convention is taking place. Since we're just a few hours away we took a ride out to Essen each of the last two days to check out the new games, meet up with some fellow boardgaming fans (yes, others from Boston and all over America fly over specially for the event) and just join in on the fun. Two hours each way, each day, makes for some nice car knitting!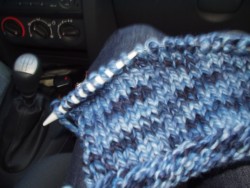 Here is one of the boys' Phildar vests in progress on the road. After our first daytrip to Essen, I'd finished the knitting on the first vest. Man, that bulky yarn sure does knit up fast! I was able to knit the second one yesterday in the car. Next up, blocking. Man, that bulky yarn sure does need a good blocking! Then seaming this weekend and the boys can be wearing their warm little vests next week. (Which is good, cause it's freezing over here! The car's outside temperature gauge read -8° celcius at one point on the ride out to Essen yesterday morning and we even saw snow falling outside through the window of the convention hall.)
Speaking of the boys, they had quite a bit of fun of their own while we were away. They went to visit their great uncle and his tractor!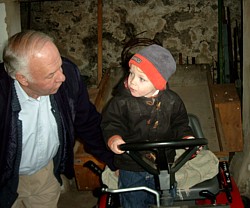 ---



october 26, 2003


shopping!

The stores are closed here on Sunday of course, but we did get some vacation shopping in during the week. At the local grocery store the boys got to ride in fun kid shopping carts with "autos" on the front,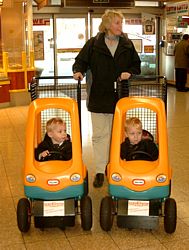 and I found all the great knitting and sewing catalogs. I bought the new Verena knitting and Burda sewing mags right away and plan to pick up the latest Ottobre, Rebecca Baby & Kids and Filati magazines next time we go out.
The best yarn selection I came across was in a toy and hobby store; still I didn't see anything I couldn't live without. But I did find some material remnants marked down to a reasonable price, which will do nicely for some summer tops once I get back in the mood to sew again.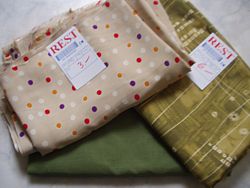 And now it's Sunday, a day of rest, at least from shopping. Not from knitting, though! I've begun sewing up the boys' vests and the back of sooty mango is all done (no pictures, as it's hard to photograph dark knits in this sun-less weather pattern we've got going on here). The boys will definitely have finished vests before we leave, but I'm pretty sure I won't be finishing sooty mango here. After all, the stores do open again tomorrow! And this week the kiddies get to go to the family stationery store to pick out something fun for themselves.
---



october 27, 2003


picture day

Remember picture day at school? I was always laying my best clothes out the night before and hoping for a good hair day. Well, it's a relatively good light day today here, so I thought what better time to get all the knitting photos taken.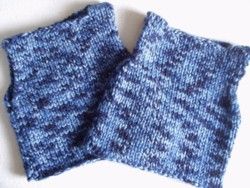 First up, the boys' Phildar vests. I used five skeins of Phildar's oh so fabulous fantasia yarn for these. The pattern called for three skeins for one vest, but a little bird told me that there would be some leftover, so I got five skeins and hoped for the best. Here's what I had left over. Now that's what I call cutting it close! I should have some action shots of the boys in their new vests tomorrow.
Hey, check out what I found in the magazine section of the family stationery store: a german version of Phildar's baby catalog, the one from last year that has both the giranimal pattern and the pattern I used for the new fantasia vests. Yeah, I have it in French, but it was so neat to see it all in German, I got it anyway.
And finally pictures of the back of sooty mango in all its sootiness. I've only taken the back out of the project bag twice to photograph and I'm already picking little light linty bits off of it. Oh boy! Despite the black being a big lint magnet, I think I'm going to like this sweater. I'm making it a snug fit, mostly because my continental gauge tightened up a little. And I'm hoping that with a little tip from ssk, the ribbing on the sleeves will be better than on the body.
---



october 30, 2003


leaving on a jetplane

Ten hours to take off. Time for a vacation wrap-up.

The vests are finished, although it's unclear whether they're a success or not. As I mentioned in the comments yesterday, a few minutes after snapping the photos, Stefan started tugging at his vest and saying "no, no". I let him take it off (sad mommy moment) but am officially attributing his vest-aversion to a "no"-phase that he seems to be going through right now. Benny, thankfully, maintained his usual fashion disinterestedness. Although I didn't end up having enough knitting time to get sooty mango finished, it is almost half done now. I set it down the front here, having just finished the armhole decreases.

One last thing to report - my father-in-law got the knitting machine up and running! Now that it's bolted to a table and oiled up, I can move the shuttle back and forth smoothly. My brother-in-law is the only person still living who actually knit something with the machine, so I had him help me knit a few rows while he was here to see the boys. Here we've got actual live stitches in the machine! And here's the knitted piece hanging below. Yes, it's a little hole-y, but it is knitting. As the Germans say, 'aller Anfang ist schwer.' And here's a slightly better piece of knitting that I managed with the help of my father-in-law. I'm still not clear on how to cast off from the machine. Maybe I can find some general info on machine knitting that can give me some clues.

All in all, a pretty cool vacation, knit- and other-wise!




---



october 31, 2003


nowie bob*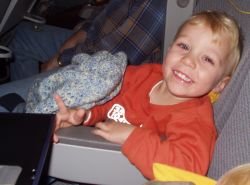 We had a happy flight back, thanks to Dora the Explorer and Bob the Builder. Some Dora books and Dora Leap Pads were good for the first few hours. Then my husband set up the laptop on the seat back tray and we got at least two hours of Dora and Bob DVD's in on the plane. And finally new Bob toys kept the boys entertained until landing. Thank you, Bob!
Speaking of Bob, we've got two little Bobs here for Halloween.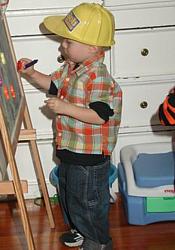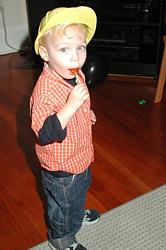 Now, if I could only get these little Bobs back on a regular sleeping schedule, I could get back to knitting again!
(Nowie is how the boys say more. So everytime a Bob video ends, we hear a chorus of "nowie Bob, nowie Bob, nowie, nowie!")
---



september 10, 2004


flying with toddlers isn't so bad, after all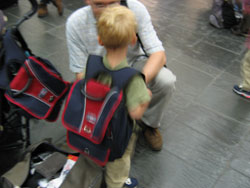 backpacks ready!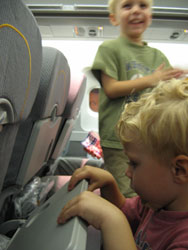 planes are fun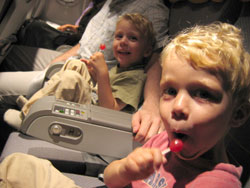 lollipops for takeoff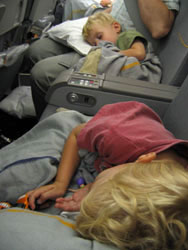 thirty minutes later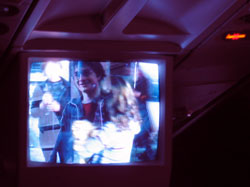 look what movie I got to watch!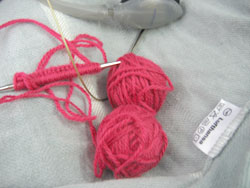 and a little plane knitting
---
september 11, 2004
bei oma und opa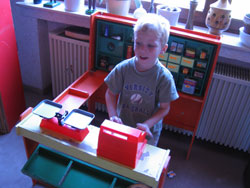 Benny plays "einkaufen"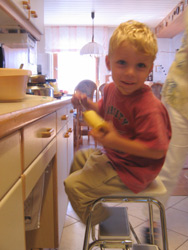 Stefan helps out in the kitchen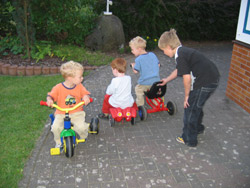 hey look, we have cousins!
Oh yes, the boys are having fun at oma and opa's. So much fun that I've even gotten some knitting done.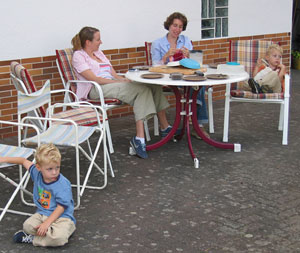 continental knitting
My current project is a secret project. Shhhh... people are listening. But I can tell you that it's stripey and colorful and lots of fun to knit. The yarn has a long history too. I originally spotted it on sale last january at one of my favorite yarn stores, Wild & Wooly. I let it go and Kerstin picked it up. We didn't even know each other then, but our similar taste in sale yarn brought us together! Well her project didn't succeed in the end and she generously passed the yarn on to me. And now I've finally found the right project for it. Here's a sneak peek of my progress so far. That's all I can show you until after Christmas. Sorry! But don't worry, there's at least one other vacation project planned, so I'll be able to post more progress pics once I start that one.
---



september 12, 2004


missing

The Knitsmiths. Don't forget about me, ladies! I'll be back in a couple of weeks.

Knit Out Boston. Two year wait for the Knit Out to return to Boston and I'm out of the country. Poo.

Blog surfing. Internet time is big money over here, so I'm not blog surfing while on vacation. Just a quick check of email, blog update and I'm offline. So write comments and fill me in on everything I've been missing!




---



september 13, 2004


german post

I arranged to have some little knitgoodies waiting for me when I arrived here in Germany. I ordered all my favorite German mags.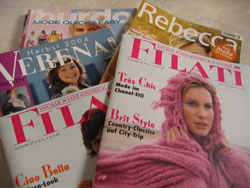 Burda, Verena, Rebecca, Filati
But the best post I received was a sweet package from Helene. Helene knitted our tea party mascot, Miss Muffin, and all the tiny little pastries that belong to a tiny Miss Muffin tea party. She generously sent me my own tray of yummy pastries.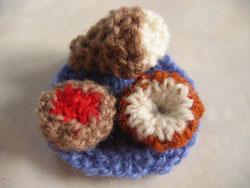 mmmmmm....
Since you can't possibly appreciate how tiny these pastries are, here's a close-up with a penny for scale. Incredible, Helene! But that's not all, in recognition of my Olympic effort at finishing up all my projects before my trip, she made me this awesome gold medal. Thank you so much!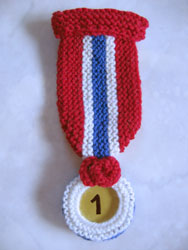 first class, Helene!
If I'm lucky there might just be a few more things on their way to me....
(It's so fun blogging from Germany. Now I can post as early as Wendy!)
---



september 14, 2004


sneak peek

Another sneak peek at my secret project, which is coming along fabulously. I'm loving the colors. They remind me of sherbert.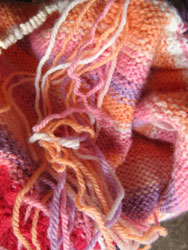 just a few ends to weave in
Yes, stripes means weaving in ends. It's unavoidable. I know, I know, you all want me to weave in as I go, but when I try, the colors keep popping through to the other side and it'll all just be neater when I do it later with the tapestry needle. It's not like you have to do it. (Of course, if you want to, I wouldn't mind! Hee, hee.)
---



september 15, 2004


u-bahn* politics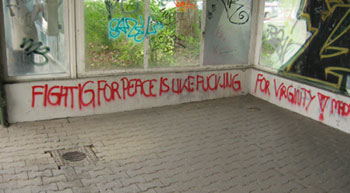 * subway
---



september 16, 2004


on the go

We're off to Munich for a few days of mommy and daddy r&r. The boys are so busy driving toy tractors and discovering new playgrounds to even notice.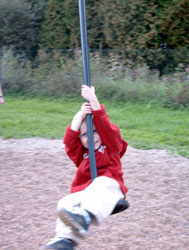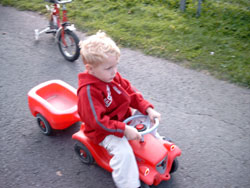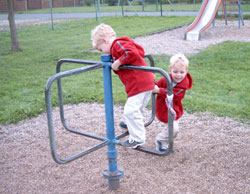 ---



september 17, 2004


in munich on-line

Greetings from Munich!

While on my mini-vacation within a vacation, I decided to really relax and brought no computer and no knitting. But that shouldn't stop me from doing a little knitblogging, right? I am able to blog from this internet place underground in the Marienplatz subway station. I'll be able to post a picture of it tomorrow when I get back to the in-laws, but for now you can check out the view inside from their webcam. If you're lucky you may spot me surfing my vacation away! This "internet point" (it's like an internet cafe, minus the cafe) is really a great idea. We paid only six Euros for two hours of internet time for each of us, which we've been able to use over a number of days. You pay, get a login code and password, use as much as you want, and come back tomorrow. The account even keeps your bookmarks and URL history. Could not be easier, people! Except for the smoke, I love this place.

Hmmm... that's pretty much how I feel about all of Germany.




---
all content, design, and images © 2002-4 alison hansel